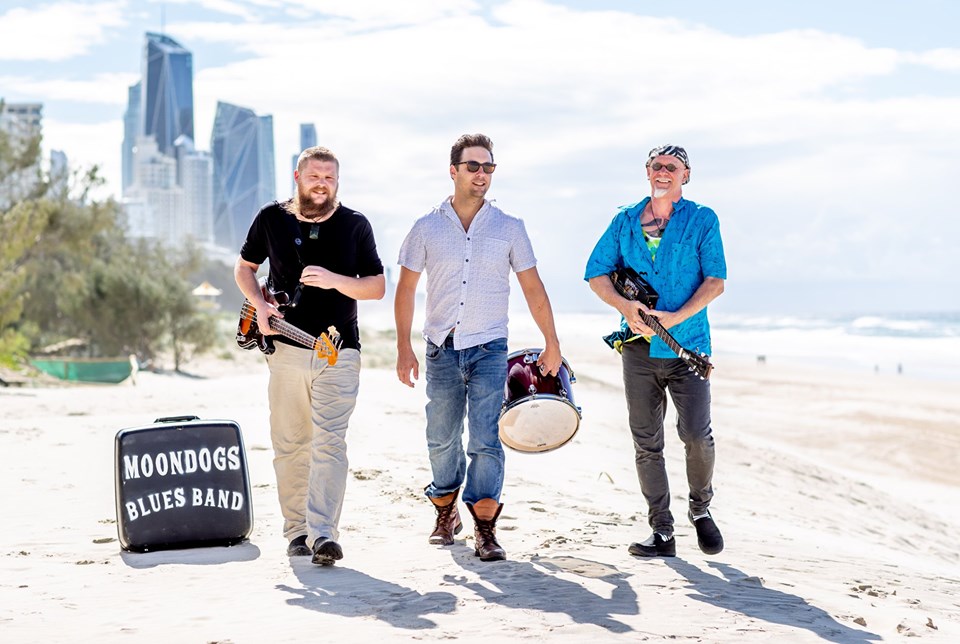 Introducing the Moondogs Blues Band
This three piece blues band is possessed in performance – heartfelt and real.  Featuring Moondog's AlleyTyn Guitars – a jook joint in a biscuit tin! His instruments are mostly metal… and modestly abused. His nocturnal freight train voice plus blues harp is the real sound of the blues.
Traditional blues to rock-n-blues-a-billy-roll. With drummer Ben Michelsen standing up next to Moondog, beating & stomping the good-times out of a custom drum kit and Matt Shepherd on bass, locking it all together – the way only a 3 piece unit can. Moondog plays a multitude of AllyTyn guitars during each performance.
The Moondog's Blues Band plays live gigs all over New Zealand and Australia (and anywhere else for that matter) and play as a full band, a two-piece with Moondog and Ben on drums, or solo as a Moondog-only experience.  Contact us for all the options, we can make a booking work perfectly for your event.  
This band can keep the blues rolling all night, or play a punchy and exciting festival set – and anything in between.
Get in touch for more infomation
We can't wait to bring the blues to your next event.